ARVO ARRIVER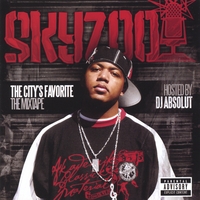 Skyzoo: Get It Done Ft. Torae (Produced by DJ Premier)
From 12" (Unknown/White Label, 2007)

I have copies of The 3 Day High and The City's Favorite: The Mixtape neither of which caused perturbation.
Skyzoo, who open for Black Milk at Pianos last Thursday, March 8, 2007, for the NYC Popular Demand record release party, in a hybrid conjunction word is "dumb-nice". His witticism, doubtlessness, effortlessness, fluent voice and painless delivery make this 22 year a welcome.
I first read about this song in latest issue of XXL . ...From words to music...


According to Skyzoo courtesy of Baller Status:

My rhyme style is a little bit of everything because I do get lyrical, but not to the point where it will get over your head. People think being real lyrical makes you nice, but it doesn't. You definitely need to know how to rap and have some type of lyrics, but being a complex MC doesn't make you nice because a lot of people aren't going to understand you. You have to be able to relate to everyone. I'm definitely lyrical, but not to the point that every word I say has ten syllables in it. I'm lyrical, but I have a lot of swagger and flows because I do make a good amount of commercial joints. I'm not some dark depressed rapper. Like, that's not me. I'm a little bit of everything. You'll get "feel good" joints from me, club joints, joints that will make you want to spend time with your girl. My style is a little bit of everything like a pot of gumbo. You get a little bit of this, a little bit of that and it fills you up real quick.

What separates me from the rest is and I'll start it off with the fact that whenever I hear an interview on the radio or see one on TV, the first thing people say is, "Yo, I got something for everybody," and I hate that! A lot of people say that, but nine out of ten of them don't really have something for everybody. If everyone can relate to your album, then how come when we cop it, there's one chick joint, one party joint and a joint about shooting up the block? That doesn't relate to everybody. Just because you have three different topics, doesn't mean it relates to everybody. It relates to people when they're having a bad day or going through something with their girl and then they may feel what you're saying. But, that's what separates me from everyone because I put money down on the fact that I have something for EVERYBODY -- guaranteed! And the other thing is I'm just being me. I don't talk about shooting up your block and I move pounds of coke a day because I don't do that. I'm around people that do that, so if I speak about it, it's from my bird's eye view and I'll give you insight to what I see, but I won't glorify it because that's not what I'm about. I'm all about putting real music out there.